By Swing Man Golf Staff
One of Jaacob Bowden's favorite places to go play golf is Golf Club Crans-sur-Sierre in Crans Montana, Switzerland.
In fact, each year the European Tour's Omega European Masters is held on the course.
On his way to play in a Pro-Am (in which his team finished 2nd), Jaacob snapped a few photos.
The first is from the drive from Zurich in to the Alps on the way to Crans Montana.

The second is from the view from the top of the driving range.

The third is the view on the green of the 205-yard (187 meter) 11th hole on the Severiano Ballesteros course. It's not exactly an easy hole but for some reason Jaacob tends to birdie this hole frequently.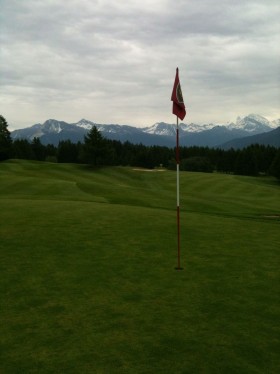 The last picture is a shot from the club house restaurant. Each year a photo of the winner is taken and posted along the wall. This particular one is from Seve's win in 1977.

If you liked the article about Crans Montana, Switzerland and you think it would help another golfer, please
To learn more about Swing Man Golf products, click here.