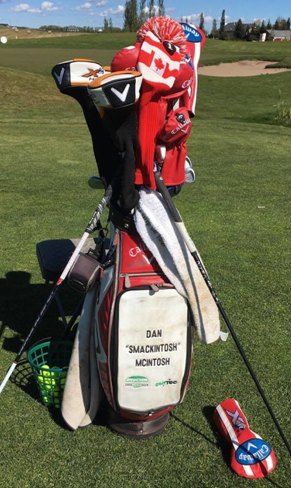 Age:                        27
Height:                  6′ 0"
Weight:                 198 lbs
Driver Specs:
4-Degree Callaway XR, 3x HOF Ninja Shaft
Sponsors:
The Athlete Factory, Callaway
Special Accomplishments:
Won a 2-day professional stroke play event, university baseball, 2-time Senior AA provincial gold medal in hockey
What is your longest drive in competition?
428 yards
What were the conditions of the drive?
Gusty Mesquite, Nevada wind
What are the fastest swing speeds you've recorded on a Swing Speed Radar and/or Trackman?
163mph on SSR
148mph on Trackman
What lead you to choose your particular equipment specifications?
Ideal launch conditions and high smash factors
Do you favor a particular shot shape to hit it long?
High and flat
Do you use any training aids to work on your speed and power?
Work on efficient energy transfer and movement patterns daily at The Athlete Factory.
No specific training aids.
Do you do any other types of training to drive it further?
Play baseball and hockey.
Run fast, skate fast, shoot hard and swing hard!
Is there any particular bit of advice you would give the regular amateur for him or her to hit the ball longer?
Learn to use the ground to start a swing sequence that involves your lower body. (Use your legs) and practice swinging…
Read the rest of what Dan has to say about the Long Drive in the September 2017 Monthly Handicap Improver here:
https://www.swingmangolf.com/register.php