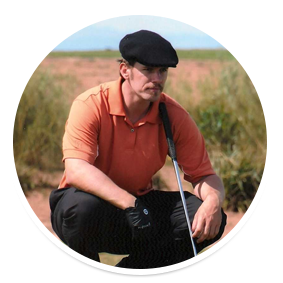 Even though golf putting takes up half of the strokes on a par round, normally I don't practice it very much because it's always been one of my strongest points. I worked at a miniature golf course as a kid and I even shot 58 under par in a professional miniature golf tournament. My on-course golf putting stats are actually good enough to fall in the PGA TOUR rankings (Putts Per Green in Regulation, Putts Per Round, 3-Putt Avoidance, etc).
So I figured it would do me better to spend my available practice time on the weaker areas of my game. I guess maybe I also wasn't really sure how to improve my golf putting because when I'd get tested on the golf putting software at our course I was always in the "green light" area of the tests.
However, for some reason or another, over the last several years I kept coming across this guy on the internet named Geoff Mangum. Geoff has spent the last 20 or so years researching almost everything possible relating to golf putting tips and golf putting instruction dating back to the earliest publications back in the late 1800's. As I perused through his material, it was very clear that he was very well researched and thought out in regard to what he said and advocated.
I felt intrigued by him and I learned that he was putting on a several hour golf putting tips clinic in my area, so I contacted him and decided to attend. The first hour and a half or so was indoors in a conference room. As he was explaining his theories, he demonstrated 5-6 putts on the carpet. There was a wall at the end of the room that I'm guessing was about 50 feet away and he told us that he was going to stop the putt right at the edge of the wall. He putted and sure enough it stopped right at the wall. Pretty impressive, eh? It got our attention, but we figured anyone can get lucky and do that. However, as he putted the remainder of the golf balls, they all stopped within an inch or so of the edge of the wall. Everyone in the room started looking around at each other wondering if what we were seeing was really happening.
But indoor carpet is one thing…how about outside? Part of what he demonstrated in the latter half of the putting tips clinic out on the real putting green was lag-putting several golf balls all the way across the golf putting green. I think the putting green we were on was about 25-30 yards long and sure enough…he stopped each one of his golf putts within what looked like a foot or so of the fringe. It was really amazing. I had never seen such touch from an amateur or professional.
Here is a video of Geoff draining a 90ft putt at Tot Hill Farm Golf Club
The really cool thing about this is that Geoff actually knows how to teach distance control. Most people think it's something a person is born with or can only learn after hitting tons of putts. However, I now know that to not be true after witnessing what he did with myself and golfers of all different levels at that clinic and several others I attended at a later time. He was getting beginners to even putt like professionals.
To no surprise, Geoff's putting instruction is catching on quickly. He's even started working with some pretty substantial players. After a lackluster season (108th in putting, three top-25 finishes, and $243,000 for the year), Steve Elkington started working on his putting with Geoff in January. In his first four starts, Elk notched a top-10 and two top-20 finishes for $287,000.
Look at the improvement in Elk's PGA Tour season stats that relate to putting: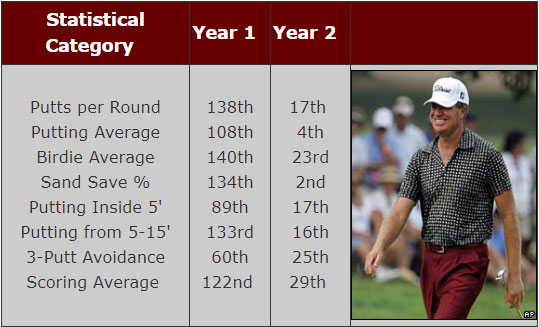 If you are not completely satisfied with your purchase, please send us an email within the next 30 days, we will reply to you within 2-3 business days, and we will happily refund your money.
Aside from in-person golf putting instruction, if you'd like to get a head start or a preview of what you might learn, Geoff has put together a full-color 282-page book explaining what he calls the four skills of putting: read, aim, stroke, and distance control. Many people only know how to teach the stroke (and often incorrectly), but through his research Geoff has learned to teach all four areas.
Get access to Geoff Mangum's Optimal Putting e-book, click on the "Buy Now" button below.
And, When You Get Access By Monday, October 02 2023 You'll Also Receive: 5 Special All-Access Bonuses!
Not only are we here to help you unleash your power through swing speed training, if you get online access by DATE, we also include other distance gaining bonuses along with easy-to-understand world class golf instruction from industry experts.
Swing Speed Training for
Longer Drives
(61-minute video – $50 value)

How to Shoot Lower Golf Scores
Take 14 Shots Off Your Handicap
(2-part video – $50 value)
The ENTIRE Mike Austin Video Library – $471 value
In 1974 at 64 years old, Mike hit a Guinness World
Record 515-yard drive during the US National Senior
Open in Las Vegas using a steel-shafted persimmon
driver with balata ball.
The Mike Austin online library includes:
The Mike Austin Swing with Jaacob Bowden
(1 hour 38 minutes)
---
Mike Austin At Studio City
(1 hour 38 minutes)
---
Mike Austin Teaching the Teachers
(2 hour 47 minutes)
---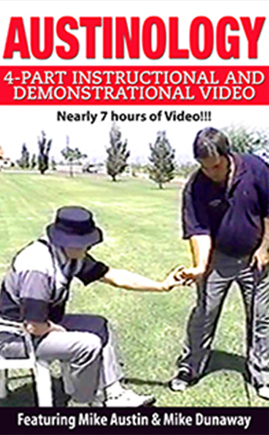 Mike Austin's Austinology
Parts 1 to 4 (7 hours)
---
Anatomy of the Golf
Swing with Mike
Dunaway & Mike Austin
(1 hour 49 minutes)

Monthly Handicap Improver
60 online publicatons, each typically 16 pages, featuring photo and text
handicap improvement content from these experts:
Tom Wishon
golf club design icon
---
Adam Young
golf coach, best-selling author,and practice expert
---

Geoff Mangum
putting coach and expert
---
Long Drive Q&As with these World Long Drive Champions:
Jason Zuback
Jamie Sadlowski
Joe Miller
Maurice Allen
Jeff Flagg
Mike Dobbyn
Jeff Crittenden
Eddie Fernandes
Jeff Gavin

Sandra Carlborg
Phillis Meti

Heather Lemaster
Audio instruction and interviews, typically 45 minutes in
length, from various well-known experts, CEOs, long drivers, and more, for example:
Jaacob Bowden, PGA
Andrew Rice Golf Coach
Fredrik Tuxen
CEO of Trackman

Shawn Clement
Instructor
David Edel
CEO of Edel Golf
David Leadbetter
Golf Coach

Paul Wilson
Golf Coach
Mark Broadie Inventor of Strokes Gained metric

Dean Snell CEO of Snell Golf
Lance Reader CEO of Krank Golf

Martin Chuck Golf Coach
Eri Crum & Rob Hogan Speedgolf World Champions

Mental Game Training Audio Program ($49 value)
If you've been around sports and golf for any length of time, you probably understand the importance of the mental game. Zero Point Golf is a 3-track subliminal audio program created by Brainspeak and his Whole Brain Learning Institute (WBLI) used by numerous players on the PGA TOUR to help them double their earnings on the money list from one year to the next. All you do is listen, it's pretty easy!
30 days Money-back Guarantee
If you are not completely satisfied with your purchase, please send us an email within the next 30 days, we will reply to you within 2-3 business days, and we will happily refund your money.
SWING MAN GOLF HAS BEEN FEATURED IN