MIKE AUSTIN AT STUDIO CITY
Have you ever seen this clip before?
Hehe, that was Mike Austin while he was hitting shots over the fence in the 1980s at Kirkwoods in Studio City, California prior to getting paralyzed by his stroke. Mike Austin, of course, is the man who hit a Guinness World Record 515-yard drive in the 1974 US National Senior Open.
Swing Man Golf is very excited to announce that the Austin estate has recently digitized a full length version of this extremly rare and vintage demonstration/instruction video.
"Mike Austin at Studio City" is a relatively short video at 34 minutes and 43 seconds, but it's super cool!
In the video, Mike demonstrates 133 mph driver shots from face-on, down-the-line, and behind viewpoints…and explains how to obtain power and elaborates on his 3 keys to hitting the ball long:
<iframe width="560" height="315" src="https://www.youtube.com/embed/UXNkQSEE_GY" frameborder="0" allow="accelerometer; autoplay; encrypted-media; gyroscope; picture-in-picture" allowfullscreen></iframe>
Weight Shift
Shoulder Turn
Hand Cock
Check out a couple screenshots: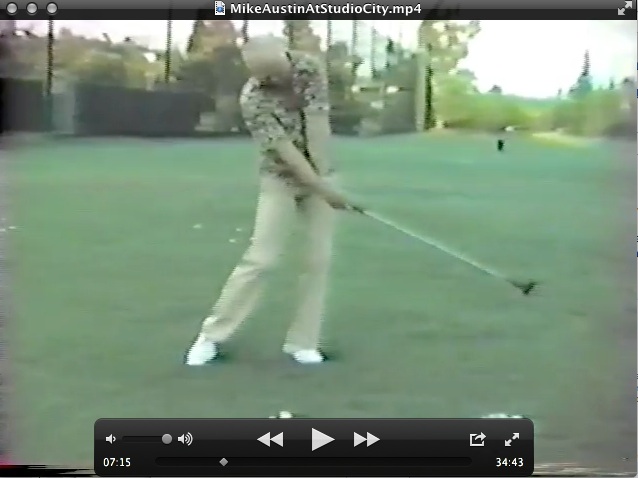 He also talks about Mike Dunaway and the 350 club, how he won Worlds in 1946 by averaging 320-yards/drive using artificial rubber balls made from cactus plants, as well as his record drive and the 2,500 spectators that witnessed it while following PGA Champion Chandler Harper and himself in the final pairing of the 1974 US National Senior Open.
Now…Austin wasn't known for being a good putter, however, he did have an excellent short game. In the latter part of the video, Mike even gets in to the short game.
He covers the 3 no-weight-shift chips shots (1/8 shots for less than 20 yards, 1/4 shots for about 30 yards), and 3/8 shots for chip and runs).
He demonstrates the 1/2 stroke…basically a punch shot at 50% power.
He shows you how he hits his "bug lover" knock-down shot using his 8-iron (probably the same loft as today's 9-iron) to go 150 yards.
He then finishes it up with the "parachute" shot, a high soft pitch with lots of altitude or height.
You're gonna love it!
Watch a short preview clip below:
<iframe class="wistia_preview" src="//fast.wistia.net/embed/iframe/znairf9su0?videoFoam=true" allowtransparency="true" frameborder="0" scrolling="no" name="wistia_embed" allowfullscreen="allowfullscreen" mozallowfullscreen="mozallowfullscreen" webkitallowfullscreen="webkitallowfullscreen" oallowfullscreen="oallowfullscreen" msallowfullscreen="msallowfullscreen" width="1130" height="848" style="width: 1130px; height: 848px;"></iframe>
To get access to the "Mike Austin at Studio City" video, click on the "Buy Now" button below.
And, When You Get Access By Monday, October 02 2023 You'll Also
Receive: 5 Special All-Access Bonuses!
30 days Money-back Guarantee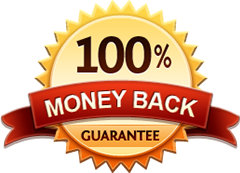 If you are not completely satisfied with your purchase, please send us an email within the next 30 days, we
will reply to you within 2-3 business days, and we will happily refund your money.
SWING MAN GOLF HAS BEEN FEATURED IN