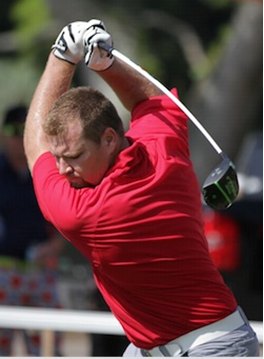 Age:                                  36
Height:                            6'3″
Weight:                           255 pounds
Driver Specs:
Krank Formula 5 and Formula 6 (5*) driver with a House of Forged Platinum shaft XXX, tipped ½ inch.
Sponsors:
Rockwell Watch Company and Smith Optics
Special Accomplishments:
1st Place 2015 Mutant Golf Long Drive Championship, 1st Place 2013 Rockwell Long Drive Champion, 2nd Place 2014 Rockwell Long Drive Championship, 2nd Place 2014 Mile High Shootout and 1st Place 2011 RWLDC Region 8 Championship
What is your longest drive in competition? 
441 yards at the 2014 Rockwell Long Drive Championship
What were the conditions of the drive?
Slight breeze, left to right.  It was in July in Utah so there was a little elevation and the ground was somewhat firm, so I think I benefitted from a good roll.  It was the longest drive of the event and there were some world class competitors there, so I also feel it was a very solid drive.
What are the fastest swing speeds you've recorded on a Swing Speed Radar and/or Trackman? 
My fastest ball speed recorded at the 2014 RE/MAX World Long Drive Championship was 226.7 mph.
What lead you to choose your particular equipment specifications? 
Mostly trial and error, which can be expensive, but I think there is value in the process of finding what works for you.  Everyone has a unique swing, so what might work and feel right for me may not fit someone else.  Also, you can see where others are experiencing success and that tends to give you an idea of where to start.
Do you favor a particular shot shape to hit it long? 
For some reason my best drives tend to be a pull shot that has low side spin so it stays straight.  When I play golf I typically hit a slight cut because it tends to be a more consistent shot for me.
Do you use any training aids to work on your speed and power? 
I use the Orange Whip to help with my timing and to increase the flexibility in my backswing and front shoulder, which in turn helps me to drive the ball farther.
Do you do any other types of training to drive it further? 
Most of my training happens at the gym where I do a lot of stretching to improve my flexibility and core work, which I believe is good for staying healthy.
Is there any particular bit of advice you would give the regular amateur for him or her to hit the ball longer?  
I think you have to start trying to hit the ball farther.  Most people really don't swing as hard as they can so when they make a concerted effort to swing faster on a regular basis they will see an increase of speed incrementally. In my own experience…
Read the rest of what Ryan has to say about the Long Drive in the May 2015 Monthly Handicap Improver here:
https://www.swingmangolf.com/register.php